La Maison
d'Eric
Catering for businesses in Marseille
Typical congress day
A congress or business seminar is a very important moment in the life of a society. Positioned on one or more days, this highly strategic event is loaded with highlights and convivial moments.

During the breaks and during the cocktail reception, your customers, your collaborators and your guests gather to share their impressions around a delicious cocktail made the same day by La Maison d'Eric caterer in Marseille.
It is often during these gourmet and gastronomic interludes that your employees share their good practices and their feelings.
Free quote
Get a quote
Thanks to the dedicated form, you can ask for a free quote, it's quick and easy!
Contact
Need more information?
Do not hesitate to contact us, we will try and answer every one of your questions!
That is why it is essential that your guests, delighted to taste the appetizers carefully prepared by La Maison d'Eric, take pleasure in talking and relaxing, filled with their taste journey.
La Maison d'Eric invites you to end your convention day, usually with conferences and round tables, a sweet break or its famous Cheese and Wine.

Because each event is unique, La Maison d'Eric caterer in Marseille takes care to treat each of its buffets. The chef - Eric Meyer - bilingual English, is present on each event.
Typical day of congress
8:00 am Coffee reception
Coffee, tea, water, soda, fruit juice
 
10.30 am Coffee break
Coffee, tea, cupcakes, Viennoiseries (2 / pers)
Still and sparkling water, fruit juice, sodas
 
12:30 Buffet
Blinis of red mullet and lime (1 piece)
Mushroom puff pastry (2 pieces)
Tuna sandwich club (1 piece)
Wrap with Serrano ham and basilade (1 piece)
Polar bread with roast pork (1 piece)
Gazpacho verrine and strawberry coulis, basilicade (1 piece)
Verrine of velvety zucchini cream with chives and cherry tomato confit (1 piece)
Brouillade mushrooms (1 piece)
Cup of quinoa and vegetables (1 piece)
Anchoïade (1 piece)
Hot meal
Chili con carne
Animation soup bar
Cream of butternut soup with coconut milk and curry
Cream of porcini mushrooms and broken hazelnuts
Desserts
Fruit Tiramisu (1 piece)
Cheese cake with fruit and cottage cheese with grenadine (1 piece)
Macarons (1 piece)
Drinks
Still and sparkling water, sodas, wine
Coffee, tea
3:30 pm Coffee break
Coffee, tea, Saint-Tropez, muffins, tarte tatin, fruit skewer
Still and sparkling water, fruit juice, sodas
Fruit basket
 
18:30 Cheese & wine
Assortment of local cheeses and homemade charcuterie
Assortment of special breads
Drinks
Still and sparkling water, sodas, wine
Fruit juice, sodas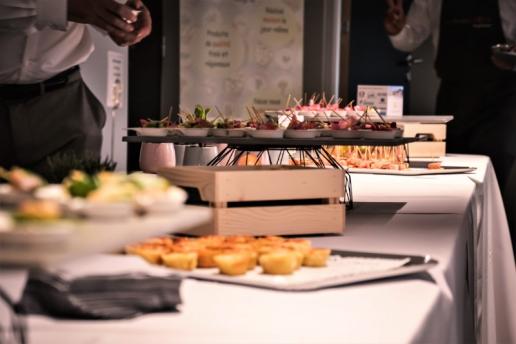 We called on this caterer for a cocktail of 90 people and I am very satisfied! The team showed great professionalism to make everything perfect. The guests emphasized the quality of the appetizers! I recommend without hesitation.
Chloé G.
Clean and neat work in La Maison d'Eric. The products are fresh and high quality, the presentation perfect, all done by a team of enthusiasts. A very good address to know at more than reasonable prices.
Stéphanie G.
Elaborate and tasty preparations, a friendly leader for a fruitful collaboration! Thanks to La Maison d'Eric for this performance, feel free to call on them.
Hugo B.
In my eyes simply the best caterer in Marseille. Take a shocking team to listen and always good advice, add great products chosen according to the seasons and end up with a lot of talent: you get the winning recipe from La Maison d'Eric.
Thomas B.